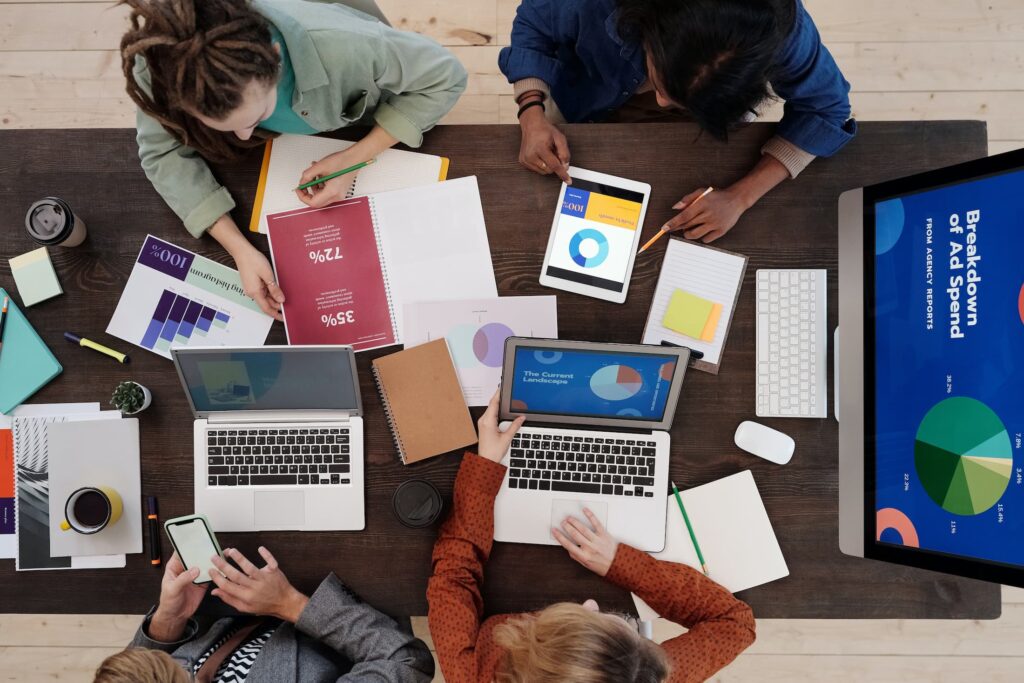 Let's do a quick case today. You have a business. Your business offers potential buyers an amazing service, product, or resource. No one knows about your business. Your business fails because:
You had no time to connect to audiences because the trials of operating a business take up your time
Your business fails because you "winged" it and just tried saying what you thought consumers would want to hear
Your business failed because you angered audiences with your approach – seemingly not understanding anything about who they are. Not advertising your amazing service, product, or resource properly is all too often a reason for failure. That's a terrible shame considering how many great businesses fall prey to this
Another potential danger is the in-house agency. To avoid the failure we just mentioned, you can do one of two things: hire staff internally to handle advertising & marketing communications or hire an external agency to handle the assignment. We like to believe that there is a myriad of reasons to hire an external agency but this list should pose enough reasons to get back to your roots and watch your business flourish.
Enable your marketing to work harder – with less overhead
Hiring an external agency can seem daunting. However, the partnership that agencies bring to the table not only serves to inspire creativity and customer relationships, but also helps to save money on overhead, benefits, healthcare, and more. An in-house team would require all those financial obligations on top of your planned media budget and staffing.
Saves your business time and resources
As an owner, you understand that money and time are valuable. Hiring an advertising agency can certainly help conserve both. While working with your external agency partner, it quickly becomes apparent that you'll find more time to concentrate on the tasks essential to running your business. There's a reason creativity and storytelling is not a perfunctory component of everyday business.
A great example for today is the sheer volume of content that is required of brands in order to stay relevant, and recognized by their constituents. An advertising agency such as Venuiti Solutions Inc spends the vast majority of its time developing content and brand stories for its partners and has prioritized the staff needed to achieve that. The best, most successful creative people can be found in agencies. Why reinvent the wheel when we can do the work to reinvent you. Agencies find "Million Dollar stories" and know how to tell them best.
Helps your business develop your brand
Building a brand can be a long and arduous process. As the owner of the business, you may find that there may be limited time and resources to create a powerful and consistent brand voice.
Many businesses have a hard time establishing a strong brand presence. This is where advertising agencies like Venuiti Solutions Inc can be incredibly helpful. Brand and consumer strategists prioritize their time to get into the deep data needed to find strategies to incentivize brand relationship building and benefit your business. This is because they often work across multiple partner businesses which enables lots of fresh perspectives. This further gets married to analytics, and stewardship to ensure your business feels the impact of good storytelling.
Provides your business with advertising experts
An advertising agency has access to all competitor information and trends which can benefit your business.
For example, we know which social media platform should be utilized for your business, and which platform is the best to use to help you achieve your goals. Agencies like Venuiti, Inc. are experts in production, editorial, events, partnerships/sponsorships, and so much more. When you think about how much all of this requires, the picture starts to become much clearer about where agencies can help you.

Provides quantifiable results
Advertising agencies have experts who weigh in on the data – they're like optimization machines. They have spent a great deal of time understanding the analytics landscape which means they are adept at building strategies, for example, SEO, that can be applied to maximize how customers find you.
Even for a minor change in your product/service, you need to create a new marketing campaign. To see if that recent change is being liked by your audience, your advertising agency will study the results and will notify you of a change if needed.
Agencies provide you with data-rich feedback on the campaigns that are run so that you also understand if it's bringing in new customers or if it's just creating a story.
Understanding which of these options will prove to give more benefit to the company can be a challenging decision. Read more about it in our blog "the advantages and disadvantages of outsourcing".

With any business relationship, your outsourcing company is your partner – not your enemy, and it helps to work with, not against each other. Based on our experiences at Venuiti, maintaining a well-communicated project ensures a healthy business relationship. Make sure you apply these tips in your next project and you'll ensure a smooth and successful outcome.